Golden Lamb begins renovation of Dickens Dining Room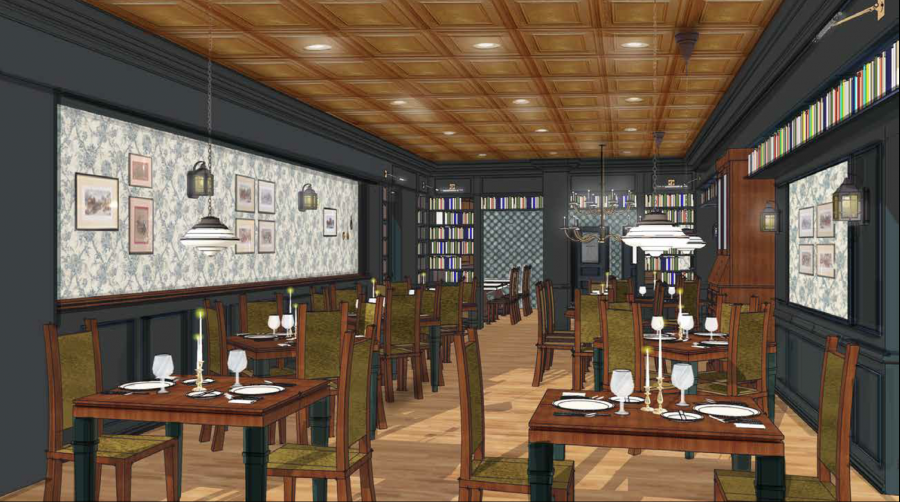 Golden Lamb today announced it is beginning major renovations on one of its four first floor dining rooms and kitchen as part of a master plan to reinvest in and refresh Ohio's longest continually operating business.
In addition to this project, the Golden Lamb is proud of its recent and ongoing reinvestment into its historic property, including the General Grant Suite, a new hotel suite named in honor of the late Union General and 18th President, Ulysses S. Grant. The General Grant Suite boasts rich mahogany furnishings, a luxurious private bathroom with marble floor and shower, as well as authentic artwork from the Civil War era. Updates also have been made to:
The Henry Clay private dining room, which hosts wedding receptions, private dinners and parties.
Refurbishment to the third and fourth floor hotel corridors, including new art that portrays the Golden Lamb's colorful history and Shaker heritage led by the team at Caza Sikes. Additionally, the Golden Lamb commissioned two signature pieces from Cincinnati artists Ursula Roma and Suzanne Fisher, now on display.
Renovations for the Charles Dickens dining room are now underway and will be completed by early July. The space will feature reclaimed Ohio hardwood floors, a new lighting package and dramatic wall coverings styled with a nod to Charles Dickens and the Victorian era. A warm library setting featuring keenly appointed furniture, antique lithographs and cherry dining tables from the Workshops of David T. Smith will bring the room together to ensure the feeling of the historic property is kept throughout.
Plans Integrate Heritage with New Ideas
"For our business to survive and thrive for 214 years, we've continuously evolved," said Golden Lamb General Manager Bill Kilimnik. "This renovation will reinforce our heritage while writing the next chapter in our long history of being the place where friends, family and the community gathers."
Kilimnik and the Golden Lamb ownership group worked hand-in-hand with an expert team to continue to evolve the vision of casual sophistication for the property in harmony with the heritage of the Golden Lamb. The team includes Tim Herberth and Herberth Construction, a proven historical contractor, which is leading the project. Jenna Prenger of Reztark is the project designer, accompanied by Greg Snyder of the RDA Group on the architectural work.
Additional Plans in the Works
Over the next few years, Golden Lamb anticipates additional, significant renovations to the property, including its two other public dining rooms and its popular pub, the Black Horse Tavern. Plans also are underway to establish Golden Lamb's own farm to provide fresh, homegrown produce and meats to the Golden Lamb's kitchen.
"We're as focused on our guests' dining experience as we are on the unique ambiance of our property," Kilimnik said. "With these changes coming to life, we're as excited about sharing our future as we are proud of our past."