Meet the Flock: Jacob Bastien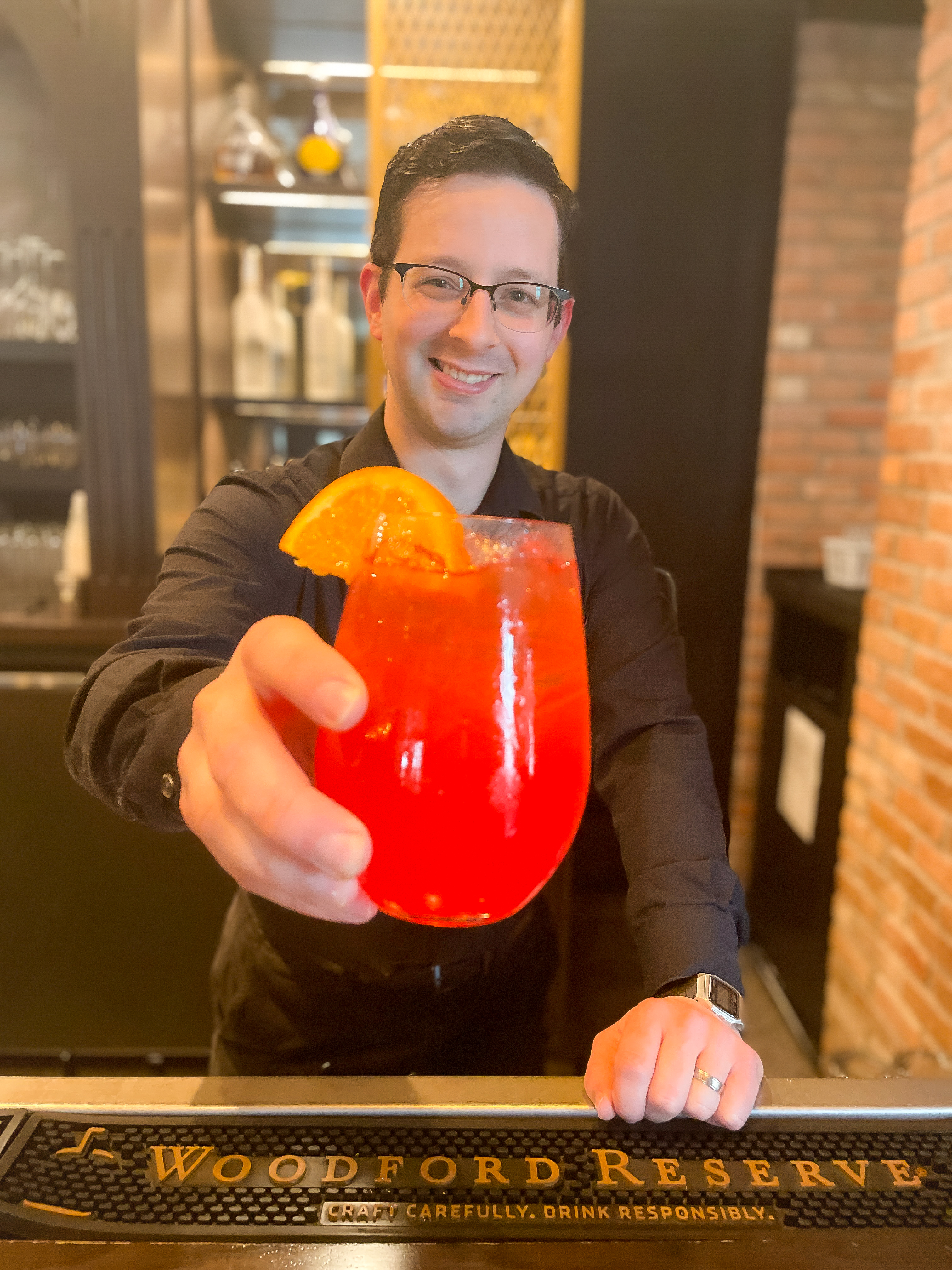 Since 1803, we've been a gathering place. With that legacy comes a whole host of wonderful personalities who have helped make the Golden Lamb what is today. As we tell stories of our past, we also want to bring you tales from the legends of our present!
Meet Restaurant Operations Supervisor Jacob Bastien, part of the Golden Lamb family for the past four years!
Having started as a grill cook, Jacob now helps run the day-to-day operations of the Golden Lamb. His sense of creativity and love of trying new things can often be seen in our weekend craft cocktail features.
We asked Jacob to share his story in his own words:
Q: How did you get started in the restaurant industry?
I was a philosophy major at Ohio State when I found myself spending class time looking for new recipes to try. I realized the restaurant service was the place I belonged! I've now been working in restaurants for the last 12 years. 
Q: What is your favorite part of working at the Golden Lamb?
There is nothing else like it! I enjoy the opportunity to learn from the team here and grow in so many unique ways.
Q: What does it mean to you that the Golden Lamb is a part of so many traditions? 
It's humbling. We have families that have been guests of ours for multiple generations. Being a part of the Golden Lamb means knowing that I am contributing to hundreds of years of history. It brings a real sense of meaning and importance to my day-to-day work.
Q: What do you enjoy the most about creating a new cocktail and/or picking new options for the beverage menu?
I love to combine ingredients together in unexpected ways, whether it be using flavors that one doesn't normally see or some unusual preparation method. I love to see what I think of as the "moment of delight" — that look when you try something new, your expectations are subverted, you aren't quite sure how to categorize it, and all you know is that you like it!
Q: What prompted the Golden Lamb to add a luxury wine selection to its menu?
We always seek to provide an excellent guest experience. With the Black Horse Tavern relaunch, we saw an opportunity to offer more sophisticated wine choices for those that were looking for it.
Q: How do you find inspiration for each weekend's feature cocktail?
There are a few different places that I look. Cocktails are a very American part of history and looking through old bartender manuals can yield some good ideas. I also like to stay local and seasonal whenever possible. I look to my culinary background as well, incorporating cooking techniques like roasting, smoking or even deep-frying into the preparation process. Finally, I also look to the people around me for inspiration — the bartenders who serve the guests every day have a great understanding of what makes a good cocktail and make some outstanding contributions. 
Q: What do you wish people knew about the Golden Lamb?
We are rooted in history, but we aren't stuck in it. Sometimes people come in with the expectation that we'll be more of a museum than an evolving restaurant. However, in the last several years we've completed two major remodels and established our farm. After 218 years, the Golden Lamb still has a lot more to give!
Q: What would you tell someone who hasn't visited the Golden Lamb before?
The Golden Lamb is a great place for any occasion. It doesn't need to be just for a special birthday or anniversary. If you want to come in for a weekday lunch on the veranda, our burger and a beer feature on a Thursday night, or a craft cocktail feature on the weekend, whatever you're looking for we offer it! 
Q: What is your favorite item on the menu?
Sous Chef Jeff Murray usually has an insane feature on the weekends, and I always love to see what he's cooking up. If we're talking about our All Day Menu, though, I love the lamb shank! Anything cooked low and slow with a wine reduction captivates me.