Meet the Flock: Chef Nick Roudebush
Since 1803, we've been a gathering place. With that legacy comes a whole host of wonderful personalities who have helped make the Golden Lamb what is today. As we tell stories of our past, we also want to bring you tales from the legends of our present!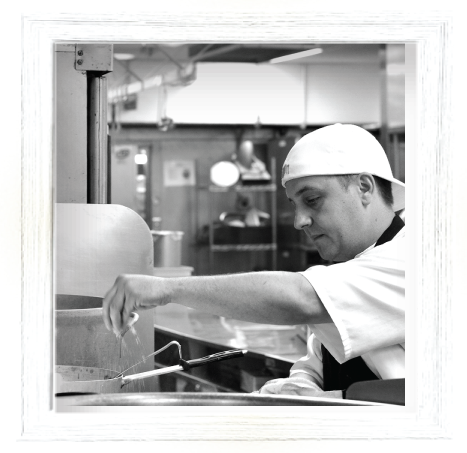 Part of the Golden Lamb family for over a decade, Chef Nick Roudebush takes pride in creating fresh takes on classic dishes that families and friends have enjoyed for generations, while also offering delicious new creations inspired by seasonal local ingredients.
He was recently honored by being chosen to participate in Savor Cincinnati, a lavish dinner series featuring one-time-only menus developed by the city's most celebrated chefs.
We asked Chef to share his story in his own words:
Q: How did you get started in the culinary world?
When was I was 16, I started working as a busboy at a mom-and-pop barbeque in Kettering, Ohio. Two shifts in, I realized the back of the house is where I wanted to be. I soon became a line cook and eventually went on to work at Lincoln Park Grille, where I started as a dishwasher while attending Sinclair Community College. In my time at the Lincoln Park Grille, I learned every station and worked my way up to Sous Chef, training under many Culinary Institute of America and classically trained French chefs.
Q: What brought you to the Golden Lamb?
In 2009, I came to the Golden Lamb as a sous chef and have since enjoyed working my way up to become part of the team that has helped bring the iconic brand to where it is today. Every year, we continue to grow, introducing new features like the addition of our very own farm and our many renovations to the tavern and restaurant. Since 1803, we've been serving guests, and it's an honor to help ensure our legacy continues another 218 years.
Q: What is your favorite part of working at the Golden Lamb?
No question, the team. We have built such a strong group here, and it truly is like a family.
Q: What does it mean to you that the Golden Lamb is a part of so many traditions? 
I did not know much about the traditions of the Golden Lamb when I started here. However, I found out very quickly how much the restaurant and hotel mean to people. There are so many stories I hear now of people who sat at one table on their first date and have continued sitting at the same table for the past 20+ years.
It is also amazing how almost everyone you meet around here has ties to the Golden Lamb. For many of the folks who work here, their Grandparents or parents worked here at some point, and now, it's their turn to be a part of building the legacy.
Q: What do you enjoy the most about creating a new dish?
My favorite dishes are ones that are outside of the box, and I really appreciate the process of creating something that I have not tried before. I enjoy the beginning steps of building the dish. Sometimes, the dish can sound better in your head than it is when you first put it on the plate, and that's when you start refining it. I love those steps that are involved in perfecting each dish — adjusting the sauce or ingredients with the team, getting feedback and working on each element until it is ready for our guests to enjoy.
That is one thing I love about cooking. It is always changing, and the food scene is continuing to be more creative every day.
Q: When participating in an event like Savor Cincinnati or planning for Restaurant Week, how do you decide what goes on the menu?
At the Golden Lamb, we find inspiration in seasonal ingredients found at the farms that surround us, including our own.
When I start planning a special menu, I usually start with what is seasonally available and what can be sourced locally. Highlighting those ingredients in each of the dishes then becomes the focus for a full menu of fresh, delicious dishes.
Q: What do you wish people knew about the Golden Lamb?
I wish people better understood the time and investment that goes into all of our dishes. From the quality of the ingredients and the time that goes into being an all-scratch kitchen, we truly provide guests with unique dining experience.
Q: What would you tell someone who hasn't visited the Golden Lamb before?
Take your time and take it all in. Allow extra time to tour upstairs and look at all our open hotel rooms and museum rooms. I still remember the first time I did, and it's impressive to look at photos and history spanning more than 215 years. It really is a step back in time.
Q: What is your favorite item on the menu?
This is a really hard question for me. I like them all, but if I had to pick one it would be the fried chicken. It is always something I have enjoyed when I was growing up and a comfort food for me for sure.