Meet the Flock: Chef Crystal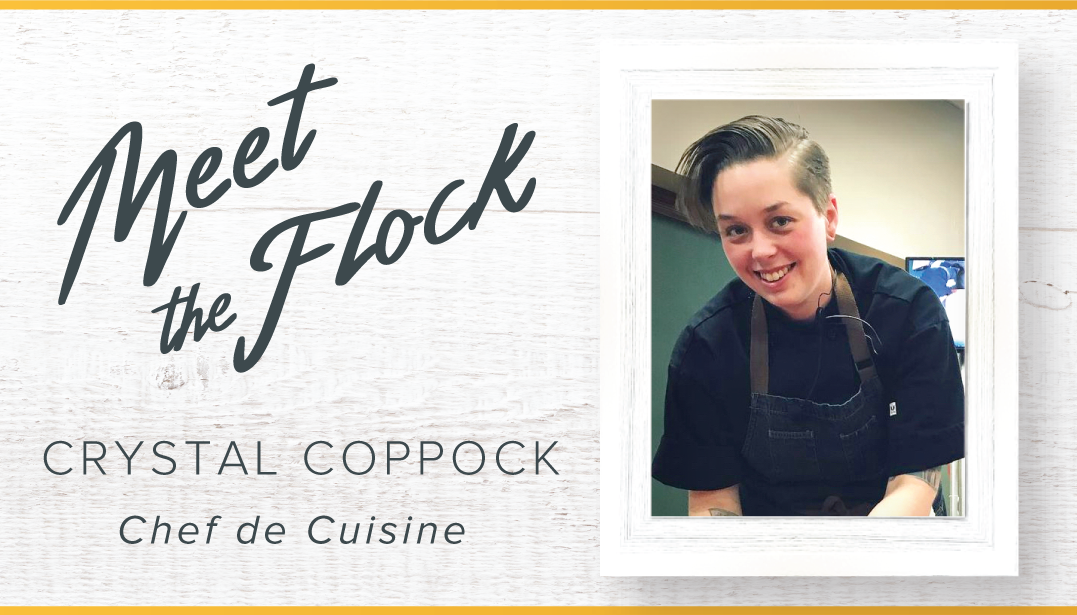 Since 1803, we've been a gathering place. With that legacy comes a whole host of wonderful personalities who have helped make the Golden Lamb what is today. As we tell stories of our past, we also want to bring you tales from the legends of our present!
Meet Chef de Cuisine Crystal Coppock—part of the Golden Lamb since April! As a recent addition to the team, we asked Crystal to share her story in her own words:
Q: How did you get started in the restaurant industry?
When I was growing up, my grandma was always cooking, canning, clipping recipes, and collecting cookbooks and gadgets whenever she could. I spent a lot of time with her, and she inspired in me a love of cooking for others that stuck.
When I was in high school, I had the opportunity to attend a vocational school for culinary arts, and the rest is just kind of history. 
Q: What is your favorite part of working at the Golden Lamb?
That's a tough question to answer, but that's an excellent problem to have!
The history of the restaurant and hotel is undeniably fascinating and is an element of the Golden Lamb that is certain to continue to both excite and inspire me.
The people who work at the Golden Lamb are a truly remarkable group of individuals who are talented, multi-faceted, dynamic and inviting. I am thrilled to be on the team, and I look forward to adding new items to this list of favorites in the future. 
Q: What does it mean to you to that the Golden Lamb is a part of so many traditions? 
It's a tall order to ensure I meet the mark of expectation for my fellow teammates, members of our community and future guests. I am eager to familiarize myself with the scores of traditions that have made the Golden Lamb an institution for hospitality. 
Q: What do you enjoy the most about creating a new dish or menu?
Probably the process. I like to tinker with ideas and creating dishes and menus allows me to explore that curiosity. 
Q: What are your favorite dishes to create? 
Highlighting the innate qualities of the ingredients is what I love about the creative process, so there isn't exactly a favorite type of dish that I like to create. However, I'm obsessed with making pasta, ice creams, sauces, butchery and working with local produce. Frankly, I'm a cooking nerd, and I like everything about it.
Q: What do you wish people knew about the Golden Lamb?
The culinary team is thrilled to bring some modernization and more variety to our already excellent menu offerings! So, stay tuned for some exciting menu additions.
Q: What would you tell someone who hasn't visited the Golden Lamb before?
Go! 
Q: What is your favorite item on the menu?
It isn't on the menu currently, but when it's offered as a special, Chef Nick's Shrimp and Grits are phenomenal! Aside from that, I'm a pretty big fan of the featured barbecue chicken sandwich, offered on our special Summer Features menu. I'll also go ahead and shamelessly plug one of my recent contributions to the Summer Features—the Salmon Piccata Ravioli, which has been well received by guests and staff alike. 
Q: Anything else you want to share?
I am just so honored to play a role in an establishment that means so much to so many. Here's to honoring old traditions and welcoming new ones. Thanks for having me! 
---
Make your history part of our history — plan your trip to the Golden Lamb!
Restaurant Reservations           Hotel Reservations