From Our Farm to Our Table: Discover the Flavors of Fall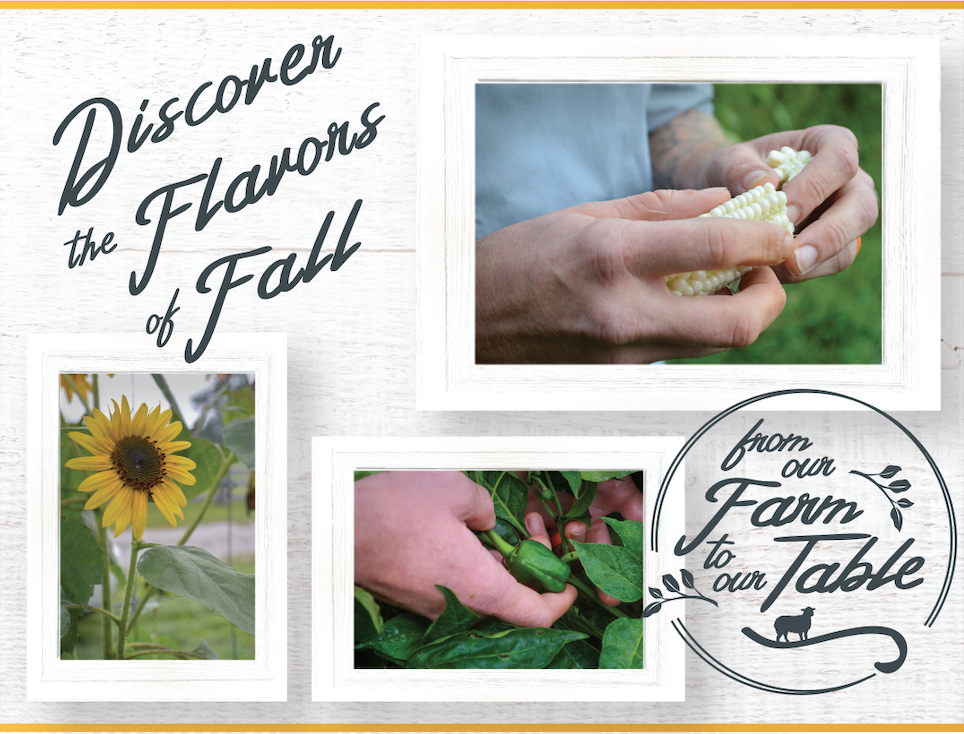 Since 1803, we've been a gathering place. With that legacy comes a whole host of stories that shape the Golden Lamb. As we share tales of our past, we also want to take you behind the scenes and share inspirations from the legends of our present!
Four years ago—inspired by the agricultural heartland we call home—we made the daring decision to start our own farm. Join Chef de Cuisine Crystal Coppock and Sous Chef Michael Wilcoxon behind the scenes as they share how this year's harvest is cultivating their creativity in the kitchen!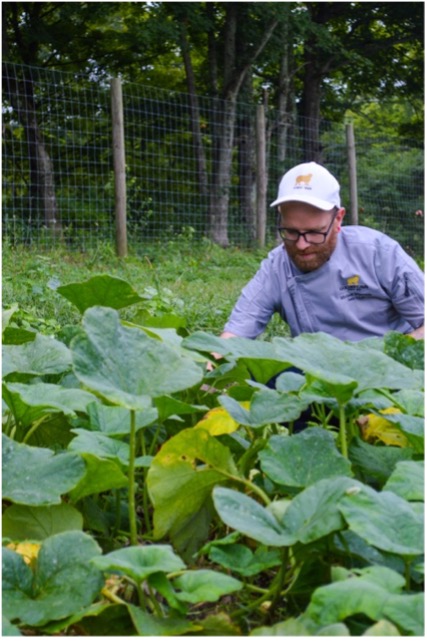 Q: How does Golden Lamb Farms inspire you as a chef?
Crystal: Few things are more inspiring than ingredients grown locally! It is a true luxury to have our own farm. Access to that kind of menu tailoring is priceless, and it's an opportunity that few chefs have. I am really looking forward to our end-of-harvest meeting, in which we will lay the foundation for next season!
Michael: To be able to go to the farm and see all the vegetables and herbs growing truly puts me in awe! It's amazing—no pun intended—to see the roots of our ingredients and dishes. This year's corn crop really was the inspiration behind our Warren County corn succotash, an element of one of our fall features. Seeing that dish come together, I just love the way the colors pop off the plate!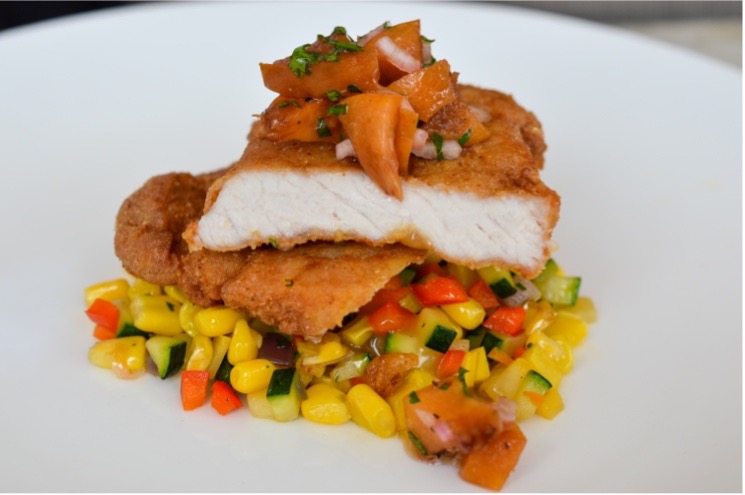 Q: Do you have a favorite new menu item or fall feature?
Crystal: Each new offering is exciting in its own right, but the apple of my eye is the new pork loin! While the dish itself is delicious, my favorite element is the collaboration. I think that's the magic of cooking in this capacity. Executive Chef Nick Roudebush, Sous Chef Michael, and I are all represented in this dish. From a center-cut prime pork loin to a sweet and mildly sour pickled peach relish and an autumn succotash, this dish is a harmonious union of local flavors.
Another one I cannot wait to unveil is our vegetarian fall feature, inspired by the farm's butternut squash. In it, whipped goat cheese is folded into roasted butternut squash, piped into fresh pasta sheets, turned into ravioli, and simmered in a rich, rosemary cream sauce. Cubes of roasted celery root and butternut squash stud the sauce alongside ribbons of baby spinach and a showering of parmesan. I think the dish encapsulates the warming comfort we all yearn for once the weather starts to turn!
Michael: The stuffed squash ravioli that Chef de Cuisine Crystal made is just an amazing dish. To be able to use all the winter squash we got from the farm has been so much fun.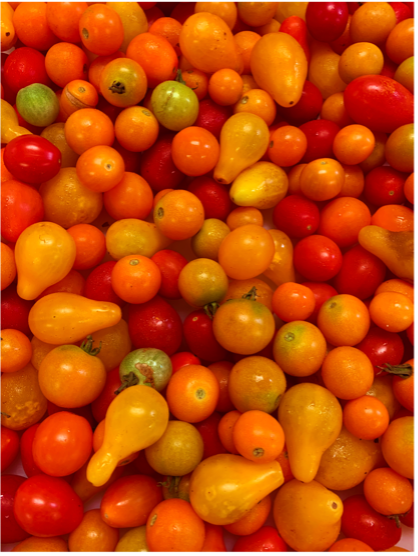 Q: Have you had any favorite crops to work with so far?
Crystal: What a tough choice. There have been some real gems! I would definitely say tomatoes have been a prize. Who isn`t a sucker for summer tomatoes? The staff has certainly benefited from those for pre-service family meals, in addition to the many menu applications!
Michael: I grew up in a farming family, so being able to create dishes using farm-fresh tomatoes just brings back childhood memories. They've been ingredients in so many different dishes including our salads as well as our Thursday Burger and Beer Night creations.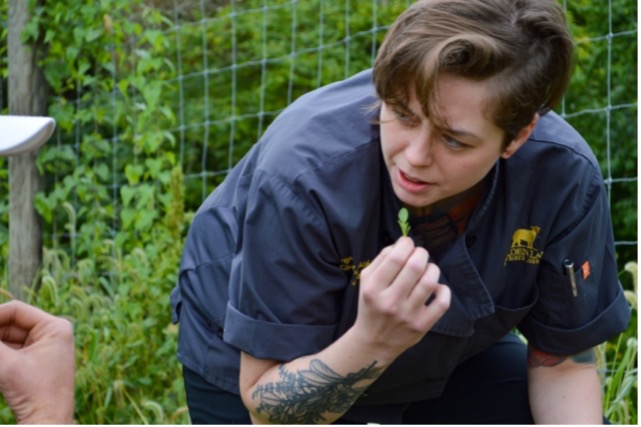 Q: What does it mean to you to be able to see the full farm-to-table process of a dish?
Crystal: As a chef, working directly with the people providing you with ingredients that will be the difference between a good and spectacular dish is incredibly powerful. To have that relationship with your community is what cooking is supposed to be about, especially in a place with as much history as The Golden Lamb. So, to have that avenue and the agency to choose seeds and see them through to maturity, and then to the table is moving.
Michael: To be able to say that we are farm-to-table is just a dream come true. I think it's every chef's dream to be able to see where your food is grown and then be able to turn that ingredient into an incredible dish that highlights the whole process. It makes my heart happy and proud to say that I am a chef at the Golden Lamb.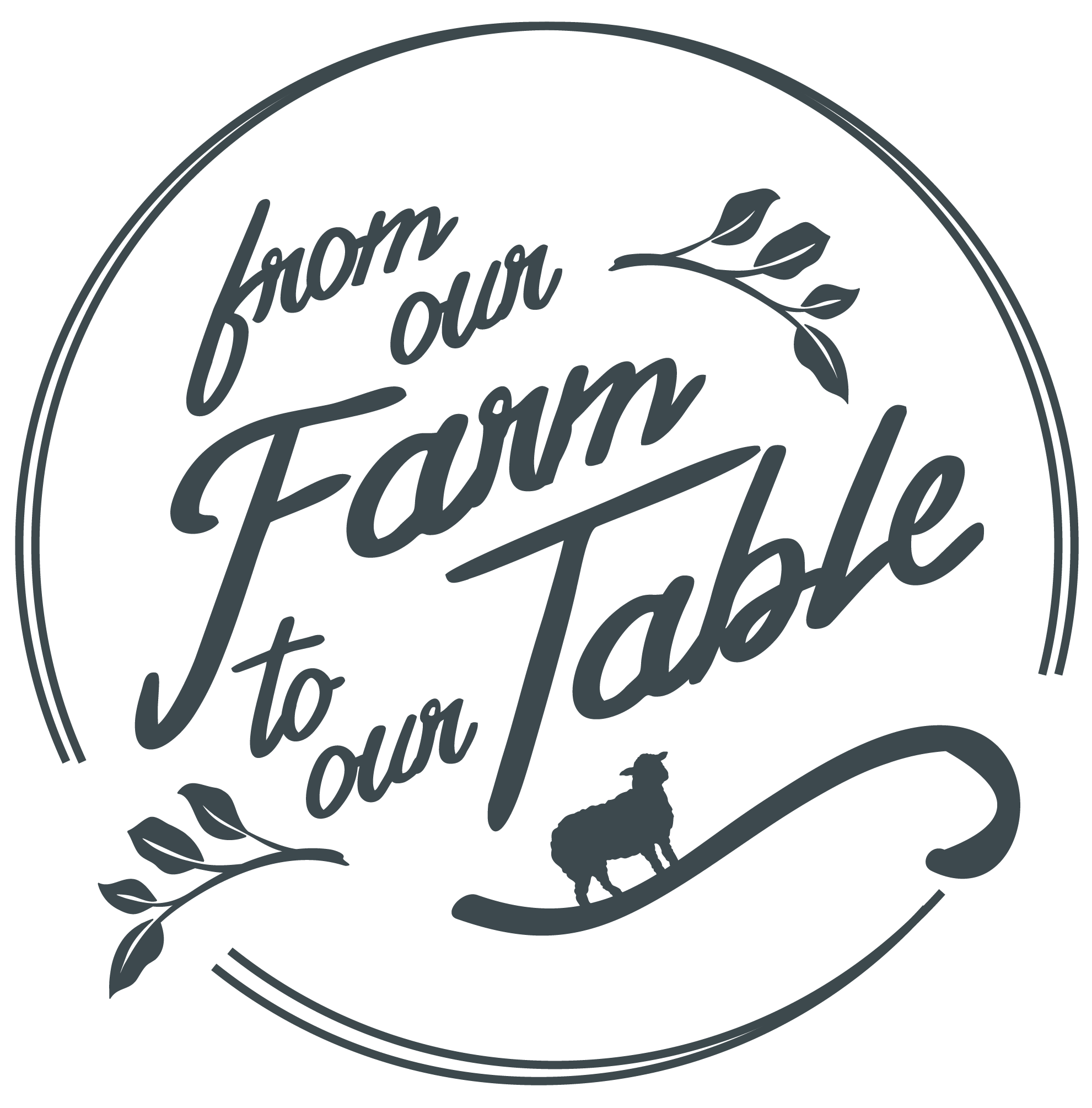 Make your history part of our history — plan your trip to the Golden Lamb!
Restaurant Reservations           Hotel Reservations