Discover the Inspiration: Burger & Beer Night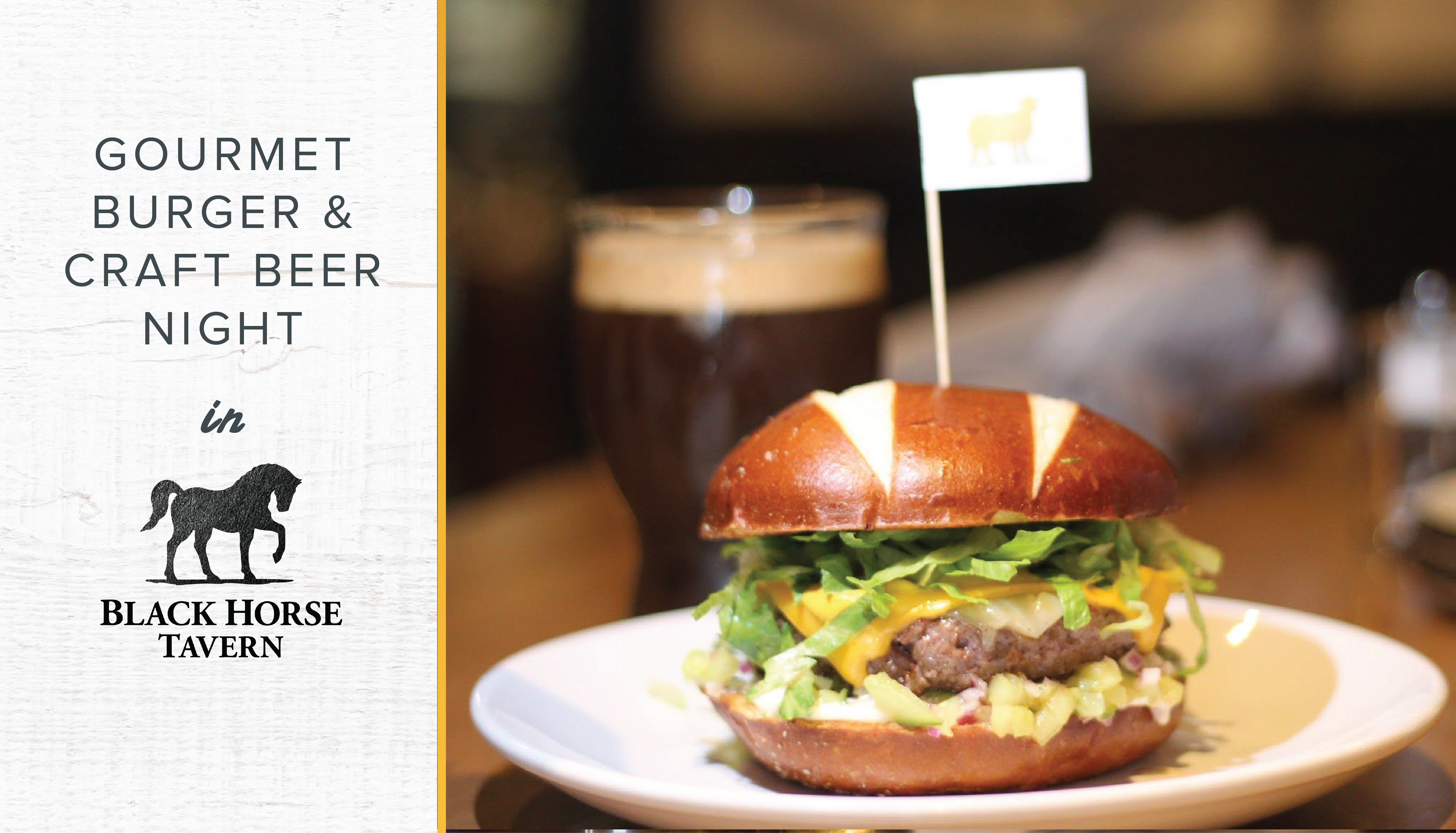 Behind the Scenes at the Golden Lamb
Since 1803, we've been a gathering place. With that legacy comes a whole host of wonderful personalities and inspirations that have helped make the Golden Lamb what is today. As we tell stories of our past, we also want to bring you tales from the legends of our present!
The Black Horse Tavern is not just a place. It's a feeling of community that warms the heart. The Golden Lamb's rich heritage and sense of togetherness shine through in the Black Horse Tavern, inspiring us to dream and try new things.
That sense of adventure is especially true on Burger & Beer Nights, each Thursday when our culinary team creates a new specialty pairing.
Sous Chef Corey Brown takes the lead for this weekly special and says it's been fun to create such unique burgers.
"My inspiration comes from different places. I might have a moment where an aroma can get my mind working, and I create from that. There are other times I will see something that is a 'classic,' and I challenge myself to reinvent or improve it," Corey says. "Sometimes, I just go 'shopping' in the Golden Lamb's walk-in cooler, and things just come together."
When Corey has the burger creation finalized, he teams up with Restaurant Operations Supervisor Jacob Bastien to figure out that week's beer pairing.
Jacob then looks for beers that will highlight the flavor profile of the burger. He finds inspiration for that pairing process in different ways, such as seasonal themes and different flavors that balance out the burger.
"For instance, a hoppy IPA with a spicy burger is a great combination," Jacob says. "Another is a crisp lager with a heavy, rich burger."
Both Corey and Jacob say picking a favorite Burger & Beer Night combination is difficult.
"I'm not sure if I have a favorite right now," says Corey. "I think I have favorite components. I really liked the Peach & Bourbon BBQ sauce we used recently, and tartar sauce is definitely my go-to condiment."
"We did one recently with pepper jack cheese and pineapple salsa paired with a Platform Speedmerchant IPA," Jacob says. "I'm normally not a big fan of IPAs, but the balance of sweet, spicy and bitter was really impressive."
So what keeps the culinary crew motivated to come up with fresh ideas each week?
"When people ask me 'What's next?'" Corey says. "I think that's the best compliment. I love that they are looking forward to seeing what I will come up with."
For Jacob, he's constantly amazed by how many people come in each week just for the Burger & Beer Night feature.
"The Black Horse Tavern has such a great vibe on Thursdays! The buzz always builds early on Burger & Beer Nights!"
To be in the know about each week's specials — including Burger & Beer Night, Weekend Craft Cocktail Features and our soon-to-be-announced, newest special, Sip & Snack Wednesdays — be sure to follow the Black Horse Tavern on social media!
P.S. Don't forget! You can order our Burger & Beer Night feature online for curbside pickup — click here to order!
---
Make your history part of our history — plan your trip to the Golden Lamb!
Restaurant Reservations Hotel Reservations