Behind the scenes: Planning the DAOU Family Estates Wine Dinner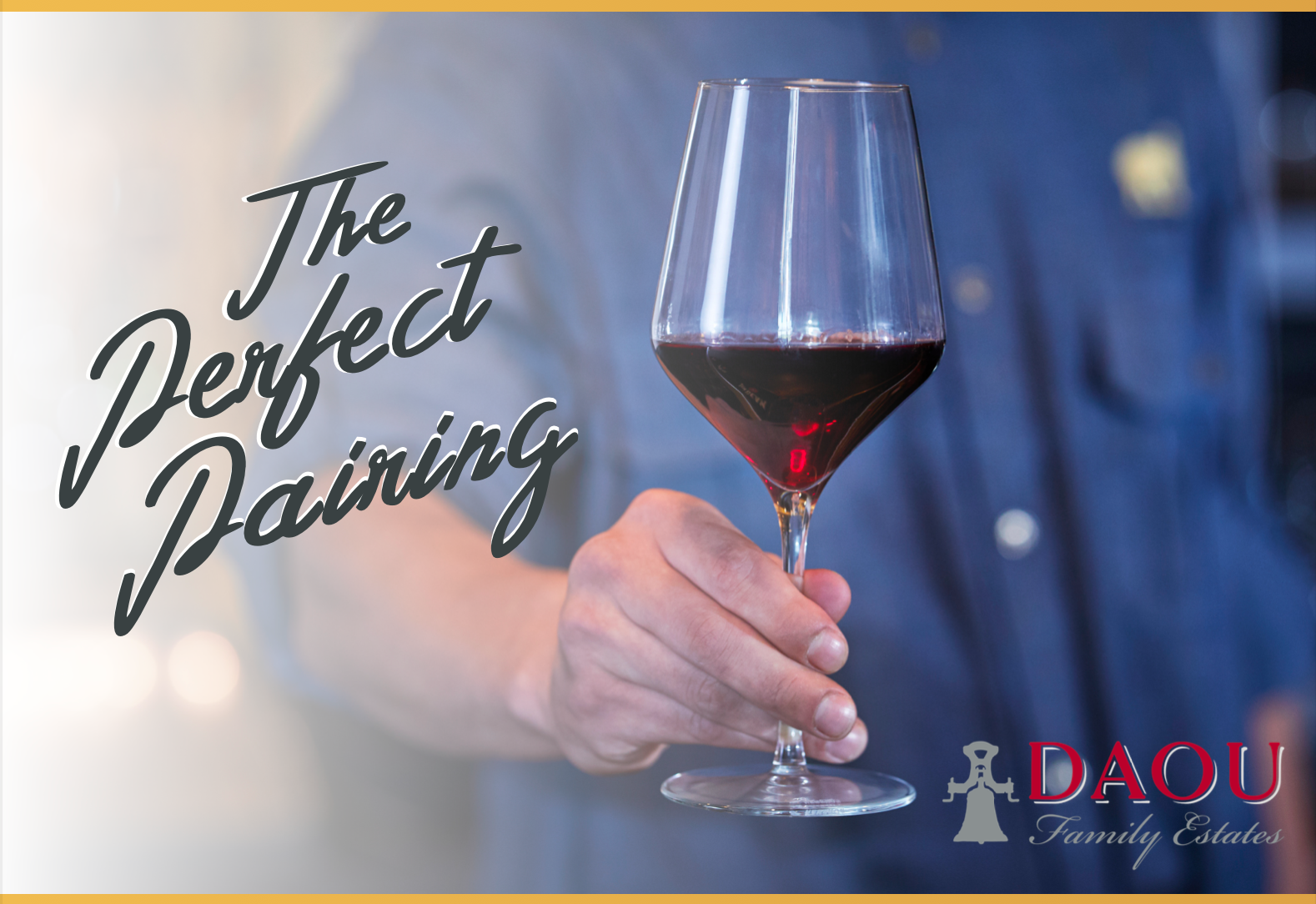 Since 1803, we've been a gathering place. With that legacy comes a whole host of stories that shape the Golden Lamb. As we share tales of our past, we also want to take you behind the scenes and share inspirations from the legends of our present! 
The Golden Lamb is partnering with DAOU Family Estates to offer a uniquely curated prix-fixe dinner paired with some of DAOU's most prestigious wines. Join Assistant General Manager Chris Fuhrmann behind the scenes in planning our first wine dinner of 2023!
Q: What is involved in planning a wine dinner?
Chris: A lot of considerations go into planning our wine dinners—from who we work with from a beverage and culinary standpoint to the décor when guests arrive.
We typically start by planning a general overview of the event with our beverage partner. Then, we have a tasting—full of questions about the wines and brainstorming—with the Chef taking the lead on creating a special menu. As the culinary team develops the menu, we hone in on which wines we want to use and how the dinner will progress.
Prior to the event, we test menu items, design menus, prepare the décor, and lay out the floor plan for the evening. Typically, we set communal-style seating to encourage guests to interact with each other and share their thoughts on the wine and the menu. We also line up a speaker to talk about the offerings.
The event itself is planned as a progressive tasting, transporting you to a world of fine dining from the moment you walk in to find your seat. We always try to include a little gem in the tasting that is not something you easily find on another menu or would not normally purchase on a whim. We also provide materials to take notes while you're tasting—it's a nice souvenir to take home!
Q: What's your favorite part of planning wine dinners?
Chris: I really enjoy the setup. There's something zen-like with polishing a few hundred wine glasses and placing everything meticulously on the table. Watching the space transform from a room to an event space is magical.
Q: How do you pick partners for wine dinners?
Chris: We first consider the quality of the product that we're going to showcase. My standards are high, and I expect to take the beverage offerings and exceed their expectations in our menu pairings. I love it when the winemaker is blown away!
Availability is another consideration. Being able to offer a special wine or high-profile item that is difficult to get is a must. I also generally ask our partners to have someone available to speak and tell stories about the selections.
Q: How do find inspiration for the menu and decide on the wine pairings?
Chris: Traditionally, the wine gets paired with the food. However, we go about the process backward to really showcase the wine offerings. Our culinary team sits in when we do our initial tasting and brainstorming. Some wines we know we want immediately, and sometimes we have to deliberate because there is too much that is good!
Once the Chefs have an idea of how we want to progress with the dinner, we confirm the wines. Then, we test dishes before finalizing the menu. Seasonal availability of ingredients, specific culinary techniques, and menu themes all play into creating a common thread throughout the dinner offerings.
Q: Is there any pairing or offering on the DAOU Vineyards Wine Dinner menu that you're particularly excited about?
Chris: The DAOU portfolio is amazing. Their entire lineup is great and shows in the scores that they receive from wine critics and judges at wine festivals.
The two selections I'm most excited about for this dinner are the Soul of a Lion, which is a big, bold Cabernet Sauvignon that is their flagship wine, and the Sequentis Merlot, which is an uncommon find in our market right now.
Q: What does it mean to you to have wine dinners back for the first time since before the pandemic?
Chris: It's huge! This is not just an opportunity to showcase wine. It's a connection of like-minded wine enthusiasts. It's a chance for our culinary team to really get creative and challenge themselves. All in all, it's a return to really showing off what the Golden Lamb is capable of doing outside of our daily menu offerings.
We have an exciting calendar of events planned this year, including culinary-focused dinners and our Dinner with History series where we have our house historian, John Zimkus, share stories of our past with guests.
PURCHASE EVENT TICKETS   VIEW EVENT MENU
After the event, don't drive home—take the stairs!
Receive $30 toward your hotel stay on March 23.
Online promo code included with event ticket purchase.