Holiday Planning with De-De Bailey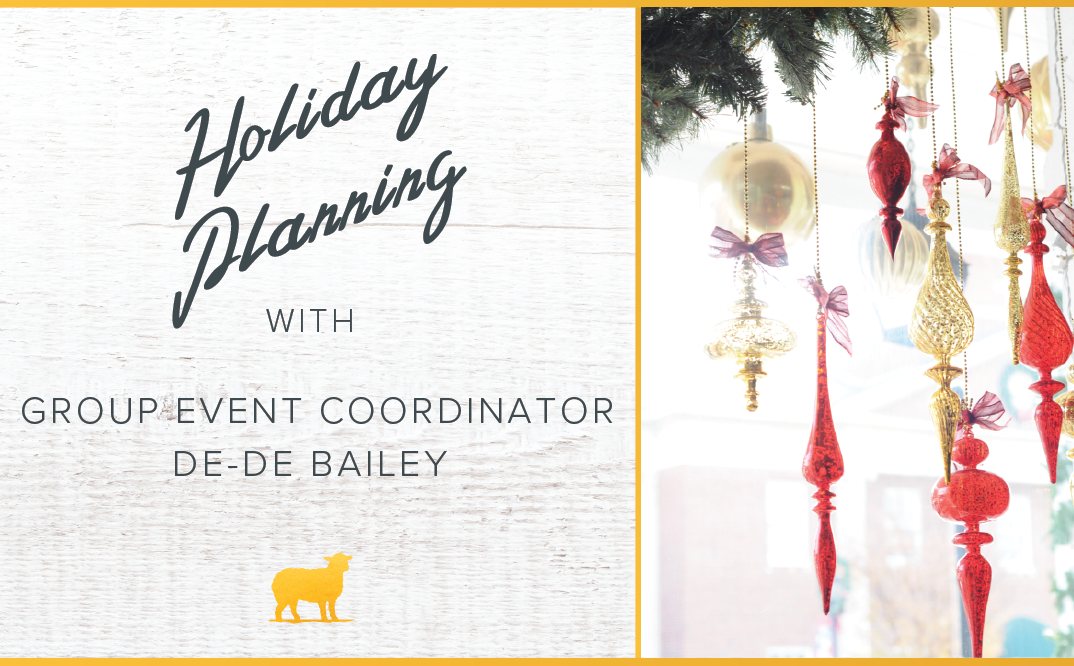 Since 1803, we've been a gathering place. With that legacy comes a whole host of wonderful personalities who have helped make the Golden Lamb what it is today. As we tell stories of our past, we also want to bring you tales from the legends of our present!
For more than 45 years, Group Event Coordinator De-De Bailey has skillfully cultivated connections among families, friends, and businesses, successfully facilitating memorable celebrations at the Golden Lamb. In various roles spanning from hostess and cashier to server, bartender, manager, and banquet coordinator, she has been a pivotal part of the Golden Lamb family.
We've invited De-De to share her wealth of experience and insights with us. Join us in honoring De-De's remarkable journey as we learn the ins and outs of holiday planning at the Golden Lamb!
Q: Can you tell us about any unique or special traditions that the Golden Lamb has during the holiday season?
A: We proudly uphold our cherished holiday meal traditions at the Golden Lamb. Our festive offerings include Frohe Weihnachten, a German-inspired meal featuring venison as the main course, Cratchit's Christmas, an English-themed meal with duck as the centerpiece, and The Christmas at Mount Vernon (an American feast featuring a delightful duo of pork and turkey entrees). Complementing these offerings, we proudly serve our signature Warm Wassail drink. Notably, we have many families that have made the Golden Lamb an integral part of their holiday traditions for several decades.
Q: How do you balance incorporating traditional holiday elements with creating a fresh and unique experience for guests each year?
A: I believe that regularly updating our menu to stay current while retaining our beloved classics offers the best selection for guests who return year after year. Additionally, our commitment to changing our decorations annually ensures a fresh and unique ambiance for our guests each year.
Q: Can you share any advice for individuals or businesses looking to hold a holiday event at the Golden Lamb?
A: As we always say, "Any day in December is Christmas at the Golden Lamb!"
With this in mind, you can choose to host your event with us either early or later in the month while still capturing the essence of Christmas. Keep in mind that availability for prime dates, especially weekends, can become limited. Therefore, keeping an open mind when selecting your date for a holiday celebration will enhance your chances of securing the ideal spot.
Q: Are there any new or exciting features or additions to look forward to in this year's holiday season at the Golden Lamb?
A: Indeed! This year, the Harmon Museum is hosting an art exhibition titled "Celebrating 220 Years of The Golden Lamb in Art''. It's an honor bestowed upon us by the museum, marking a return to what was once an annual tradition. 
Q: What do you most look forward to most during the holiday season at the Golden Lamb?
A: I look forward to seeing all of our loyal customers.  I have been working with some of them for over 40 years, and it is always a pleasure to see them once again.  And, I look forward to the venison dinner. It's my favorite!
Q: What are the key factors to consider when organizing holiday events, especially in terms of group reservations and larger gatherings?
A: I have learned over the years that flexibility and patience go a long way!
Q: Can you share a memorable holiday story or moment from your years at the Golden Lamb?
A: I have so many, but my favorite would be with the Lerch family. We share a unique closeness due to various similarities in our family trees. What makes it particularly special is that every year, Mrs. Lerch creates a personalized ornament for me. This tradition is very special to me.